Jeff Winkler, CU Coach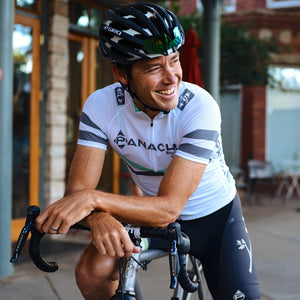 Jeff Winkler is a bit of a legend in the Colorado Cycling community.
Whether it through his consistent strength on a bicycle, calm and confident demeanor, or his seemingly mysterious past, Jeff has an ability to connect and understand with his friends and athletes alike. It is for all of these reasons that we felt compelled to tell you a little bit about our friend. Enjoy!
1. As a Panache brand ambassador, CU's Head Coach, and avid racer, tell us a little about how you came to Boulder and got involved in so many disciplines of cycling.
I started racing in California as a junior in 1986. Back in the day, I primarily raced road, but gave a couple MTB races a try. Later when I lived in Missouri, I got into MTB and CX, racing the local scene. I moved to Boulder in 2012 and have continued to ride and coach athletes on the road and dirt.
2. We know you coach quite a few racers in the Front Range area… can you tell us a little bit about your history with coaching?
I first started coaching in 1993, when I coached the UCSD Cycling Team and several local riders in the San Diego area. I started a little coaching company with a couple other knowledgable racer/coaches and did that for a few years while finishing school and working in the area. I've coached riders on and off since, and then started coaching full-time here in Boulder in 2012. I worked for a year at FasCat Coaching and now I coach full-time on my own (Winkler Cycling). I have coached the University of Colorado Boulder team since 2012.
3. You do quite a lot of racing. How do you balance life, work, and training while also finding time to travel to these races?
The overall balance has definitely shifted (back?) towards the bike. I suppose that's inevitable when work is coaching. In reality I've made the conscious decision to fill my days with riding, coaching, and other bike-related things. I certainly enjoy the sport and working with riders trying to meet their racing goals.
4. If you didn't ride bikes, what would you do to fill that time instead?
As in the past, I suspect I'd be spending a lot of time at a desk. I do enjoy working in the computer/internet/data space, so I'd probably be doing some sort of programming.
5. A lot of wise, successful cyclists live by a specific mantra… Do you have any wisdom to impart to us?
I don't think I ever adopted a mantra per se, but a few truisms have developed over the years. First, bike racing, taken seriously, entails a lot of hard work–it is certainly the hardest job I've had. As such, you need to commit 100% to the work and sacrifices that come along with it. You can't be the best racer you can be and not sacrifice other areas of your life. Second, the commitment and sacrifices are worth it. The life lessons and self-awareness you develop as an aspiring racer will serve you in everything you do later in life. Finally, if you want cycling to be part of a balanced life then commit to that. Cycling, even racing, can be done for fun.
6. We've heard a lot of rumors about your past professions (lawyer, developer), can you shed any light on your professional work history?
My professional life has been varied. I think cycling fostered an entrepreneurial spirit. After racing full-time in the US and Europe until I was about 25, I returned to school to finish my undergraduate degree in Political Science. In 1994, a former collegiate cycling buddy helped me get an internship at the San Diego Supercomputer Center and this exposed me to the early internet. I remember seeing the first web browser and thinking "hey this internet-thing might be a big deal". One thing led to another and I ended up starting a company doing web development and writing some software to help businesses manage and analyze their online marketing activities. As business on the internet boomed and then crashed, I felt it was time for a new direction. That new direction became law school and then a job working for a Federal Judge as a law clerk. At the same time I was helping my wife Gina Caputo open and run two yoga studios in the Kansas City area. Finally, after a 3-month sabbatical in Costa Rica and a year traveling the country teaching yoga, we made our way to Boulder. I came full circle with cycling and started coaching full-time. I still have a hand in tech, doing some side projects for local companies related to web development and analytics. I've had a few occasions to help professional riders with contract advice as well. Gina continues to train yoga teachers and teach yoga classes and at festivals. In fact, we just opened the Colorado School of Yoga here in Boulder. The school offers professional training and development for yoga teachers and will offer community classes to the public as well. I guess if there is a theme to all this it is to keep things interesting and challenging!
7. A lot of Colorado racers take their nutrition on and off the bike very seriously… Do you have any go-to meals or snacks that you train with?
Chocolate chip cookies and ice cream are absolutely critical to success in life. Honestly, I was never that type of racer: fast food was a staple during my racing days, I was never overly concerned about my weight, and I pretty much ate whatever was available. This ended up being an asset while racing in Europe. In my day, the food over there was different and many Americans struggled not being able to meet specific dietary needs/wants. Of course, there are some basic nutritional needs that must be met, but I don't think there is any magical diet, snack, or meal that will make the body perform beyond what it has been trained to do. On the other hand, many athletes have certain foods they don't tolerate well. For them it is important to find what works and stick with it. As a rule, I am dubious about fad diets. The traditional athlete diet–"high carb, low fat, and necessary protein"–is still a consistent winner in my book.
8. We noticed CU has a few new events on the calendar this year. Would you mind telling us a little about those events?
CU is partnering with WithoutLimits to host our road events in April. This makes event promotion more achievable for busy students and minimizes calendar conflicts. Saturday is aTeam Time Trial from Lyons to Boulder on 36. This rolling course should be challenging as teams will have to be careful to avoid overcooking the uphills and blowing up the team. Fitness is always key, but the winning team will likely be the one that does the best job of managing their 3rd strongest rider. Sunday is a circuit race on a mix of pavement and dirt roads. Last year we hosted Boulder Roubaix and it was a big hit, so we expect the same from this course.
9. On that note, collegiate cycling seems to have quite a few changes on the horizon. Can you give us your thoughts on the developing collegiate program?
USA Cycling has made the decision to drop the current big/small school division structure and will be replacing it with with a varsity/club system. Hopefully, this fosters the growth of varsity cycling programs around the country. I think we'd all like to see increased opportunities and financial support for racing cyclists attending college. I anticipate a few short-term negative impacts though. I think this will be a blow to the strongest club programs around the country. There are a handful of club teams that are competitive with the varsity programs, but will no longer be able to line up with them at Nationals. A related issue is that many of the new varsity programs will not be competitive yet and the depth of the field is likely to be weak. It is likely that the races will dominated by 2 or 3 teams. I think it would have been better to implement a performance-based structure with the top 25-30 teams gaining membership in Division 1. This could be coupled with a promotion/relegation system that allows some movement between divisions.
10. If you could go out to lunch with any fictional character, who would that be?
Fictional character: Mickey O'Neil from Snatch
Historical Figure: 
Niccolò di Bernardo dei Machiavelli
11. Do you know any sweet tricks?
Sadly, I have never spent much time working on bike tricks/skills. I've always wanted to be really good and wheelies and manuals, but haven't gotten around to it. Maybe I'll get working on those this spring/summer!
12. What's one thing you never ride without?
Money! Mid-ride espresso and chocolate chip cookies.
13. Lastly, tell us about a few of your goals for the 2016 season…
For CU, I'd like to see the team ride well throughout the season with everyone meeting their respective goals. Same holds true for my personal coaching athletes. I'd really like to see the young guys have some breakout performances this year.
As for me, I'll be doing some longer gravel/dirt events: Belgian Waffle Ride, DK200, Crushar in the Tushar, Leadville. I am working to get back into shape so I can ride to a good result.
Finally, I'd love to convince CU to elevate cycling to a varsity sport and take the program to the next level.
12 Responses