The Angry Bovine Experiment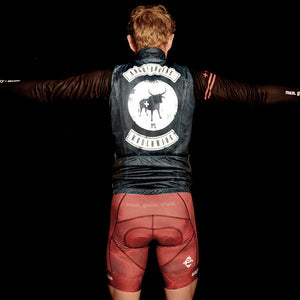 For those that know Jay Ferracane, you know that he rarely listens to the trends. Jay doesn't scope out the latest patterns and he certainly doesn't subscribe to the fashion blogs. Jay creates trends, often throwing caution to the wind and redefining his genre.
Jay is unpredictable. Jay is wild. 
The latest Angry Bovine kit embodies Jay's wild side. "Blood Bath", as it's affectionately called, provides us with an insight into the workings of Angry Bovine. 
"The genesis of the kit came from wanting to do something a little more core and somewhat related to the music scene I grew up in. The 80's 90's hardcore, punk and metal scene."
"My kits are often reflections of my past, my upbringing and interests. This year I think it came from a wanting to remember that part of my past as this year seemed to have a lot of rock stars I admired died this past year, Lemmy from Motor Head and David Bowie to name a few."
"The irony of being a designer is that you should be known for doing acceptable, dependable work, but never predictable work. I looked back at my work and things had become formulaic. Often, the kits I do for Angry Bovine are experiments and purposely designed to keep people guessing. This year, I didn't want to do matchy matchy; I wanted to honor the past but do something present. So, I kind of broke my own mold by going to abstracting photographs into pattern and textures." 

 
"The result? Its what I was hoping for. Something not like I had completely done before, but still made sense. I think if that kit had a muse it would be, the band, the black lips. It's from the streets, doesn't take any shit, but can laugh at itself and everyone else.

It's switchblades and rainbows. It's bicycles by sons of anarchy. Swimwear and fist fights, maybe a little blood in the pool.

Like I said, its an experiment." - Jay Ferracane // Angry Bovine

 

Click here for more information on how you can get custom apparel for you and your team. 
8 Responses