Gripper Paint, An Innovation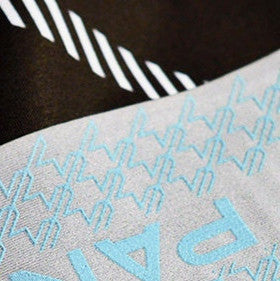 HATE that "sausage" affect on your legs?! You are not alone. When we started Panache we launched with a tapered bottom band, a look that has come to define the Panache bib short. That tapered band had a function, though, that not many realized: it helped taper and mitigate the dreaded "sausage effect. It was a step beyond, but did not, quite, eliminate the effect completely. But now, using a new panache technology called Gripper Paint, we have all but eliminated the sausage effect. So all mourn now the death of Mr. and Mrs. Sausage leg. OK, done. Let's move on and talk tech:
How have we achieved this advance in leg gripper?? As we always do, we think beyond what exists and create solutions that draw upon new technologies and new innovations. In this case, silicone ink and lasers.
Silicone ink technology is an innovation that adds grip, in the form of silicone, to ink. The key is that the silicone can stretch without cracking. It's basically grippy ink that can stretch. This makes its application on arm and leg bands a perfect match. The result is a gripper band that will not migrate or move while in motion pedaling the bike.
Laser-cut. We apply this silicone ink to a fabric that has equal stretch to the bib short and jersey fabrics for a seamless stretch. Since the silicone ink is applied directly to the fabric, instead of having to sew in anything, we simply laser-cut the edge. Thus, no sewn-in gripper tape. It's simply the fabric with the silicone ink.  In addition to functioning well as a gripper, the Gripper Paint has the added benefit of being more aerodynamic. The leading edge of the arm and leg are now only one-layer of fabric thick allowing the air to flow easier than the bulky traditional gripper "tape".
The Panache Gripper Paint technology is truly a step beyond traditional gripper tape. In fact, we have fun here at HQ with converting people, especially riders who are skeptical at first. When they take a pair of bibs with our traditional gripper tape into the changing room, we suggest trying on the new technology, another pair with the gripper paint. If reluctant, we ask that they try the for product testing purposes. When the emerge a few minutes later, they usually have a big grin on their face, a sure sign of a converted rider. The convert rate is amazingly high – about 95%.
Copy Cats. Some have copied or attempted to copy the Panache Gripper Paint. Although they have somewhat succeeded in looks, they have not succeeded in function. Using silicone dots (so boring) instead of silicone ink, AND using a cheaper fabric (that warps when stretched), inferior copies have confused the technology. We tell you this because like many advances in technology, there are always people who try to copy, but not understanding the issues and complexities involved, they often come up with poor performing, look alike solutions. Think Chinese made versus American made Env carbon wheels. The reality is that the Panache Gripper Paint bands look great, grip beyond category, and do not warp when stretched making for a fast, comfortable ride on which you will actually never think about your gripper paint – because they work so well they disappear.
5 Responses
Leave a comment