Don't Call It Groad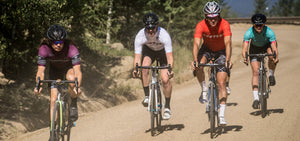 Groad. Gravel + Road... It's becoming a term, but shouldn't. At Panache we are totally sold in on the movement. In fact, we have been long time participants and proponents of riding on non paved roads. The movement is a thing because it's fun, different, challenging, takes you to cool places far and near; places that you haven't ridden before. It can be safer because in theory these gravel, dirt, cinders, paths, tracks, and lanes usually have fewer cars and trucks (although farm equipment pop up as a new obstacle). 
But... Groad? No. First, it sounds horrible - like gross or toad. The thing is, it shouldn't be a separate categorization within cycling. It should just be part of it. Yes, there can and should be dirt road only rides and races, but gravel should also just be part of other races. Road races should have some dirt - and they do. This is exactly what Stada Bianca - the fastest growing UCI Pro race in terms of TV viewership - is: a road race with a LOT of stada bianca, aka white dirt in Italian. Ghent Wevelgem this year added "plugstreets" (green roads or farm lanes) sections to their finishing circuits.
Variable terrain, or Rowdy riding as we say here at Panache, is in vogue for several reason as mentioned above, but the main attraction is that it adds drama into racing into what has become, let's be honest - over the past several years - formulaic and dare I say, a bit boring?! Race starts. Four or Five no-name (still great athletes, but not our heroes) riders go up the road in the first hour of racing. Somewhere at a distance that is calculated back in the team car that takes into account distance to finish and the gap between the break and the peloton, the peloton puts it into over drive. Break is caught with 500m (more exciting) to 10k (less exciting) from the finish. One of five sprinters wins. Mountain race/stage: same thing, except even less exciting, the same guy wins (Froome). OK, I'm exaggerating, but it's somewhat true. Adding in some dirt, whether it be dirty cobbles in Paris Roubaix, stada bianca in Italy, plugstreets in G-W, now you have uncertainty, drama, challenge. As Hans de Clercq, Ghent Wevelgem's race director, puts it: "integrating this strip (green lanes) between the two Kemmel climbs will provide additional nervousness, there will be less opportunity to recover. The [race] won't be won here, but the chaff will be further separated from the wheat."
Variable terrain is also entering MTB. Cape Epic, billed as the Tour de France of mountain biking has a lot of dirt roads in between its sweet singletrack. This, especially in the duo team format, allows for more tactics - and more group riding (MTB peloton of sorts). More drama...
Gravel, cinder, dirt roads, paths, lanes... should just be looked at as part of the spectrum of cycling. That's the movement. To some the difference is semantics, but I believe it goes further. If you cut up gravel and make it a Groad movement, you've sliced it all up into parts. However, if you see it as a spectrum, then you have a movement that brings it all together into a Single riding movement. 
If we view variable terrain riding in this way - as a part of riding that can add fun, drama, challenge, etc; VTR can be the solution for cycling's woes. Let's face it, cycling, especially in the US, has taken a hit. Not only is our former hero, Lance retired, he went down in spectacular fashion. Doping... Oprah... Lawsuits... America's hero is dead. And there isn't a new hero on his way (maybe a her, but that's another story). It's not that we don't have some young talent in the pipeline. It's that any new hero has such a high bar to attain hero status: must win at least 8 TdFs - and be clean doing it. Internationally, it's not much better because of the cloud over Team Sky's head. Ouch. The only shining star is, of course, Peter Sagan. He's got the ability, the hair, the one liners... But still, we are afraid to commit to him. We've committed before and ate crow for it (Lance). Enter VTR into the equation, inject visually stunning, challenging sectors of Variable Terrain and now you've turned pro racing into something not about the heroes and racers, per se, but you've made it about The Race, The Ride. 
The result is racing like it used to be in the early 20th century when the Tour de France was beginning. Back then, it wasn't so much about the racers. At that point, yes, there were those riders that stood out amongst the rest, but it was more about the route, the distances between the start and finish. And, eventually, when they plugged mountains into the routes, it was the vista (places people didn't often get out to see) and the challenge of men riding up and over these huge mountains that caught the publics attention - and got people to read L'Equipe, the newspaper that founded the race in the first place. As in the beginning, when racing was more about the route and the ride, VTR could spell the salvation for cycling.
To bring it all back around... Yes, there's a movement that involves riding on gravel roads. It's a movement that is here to stay. It makes sense on so many levels. Fun, Adventurous, Healthy, fewer cars.... But please don't call it Groad. It's not a stand alone movement. It's simply another part of the riding experience. Another part, that if thought of as part of the whole, could just bring cycling the kick in the butt that it needs.
Peace.
23 Responses