Long Sleeve Jerseys for Hot Weather Riding is a Thing!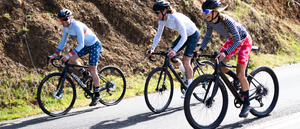 Trends we see: 
The rise of the long sleeve jersey for hot weather riding is a thing. It makes sense. Sleeves block more sun than no sleeves. 
The benefit of wearing a long sleeve jersey when the sun is beaming down is not only that you won't get as sunburned but also that you will be able to ride further and recover faster. On a hot, sunny, summer day, the Sun can take more out of you than your actual ride. And, it takes your body a long time to recover from sun exposure. So, if you want to ride longer, faster, and recover quickly, wear a long sleeve jersey that breathes well. 
Don't underestimate the long sleeves for hot weather. Pro bike racers in hot climates like Colombia, Guatemala, and other South and Central American countries where the temps and sun is intense often wear either long sleeve jerseys or arm "warmers". When I first saw this on a 98 degree day in El Salvador while doing their National Stage Race, I thought to myself, how is 98 cold to anyone?! After the first stage, and after my sunblock had sweat away, I knew the answer. 
Tips for a more comfortable ride while the sun is blasting down: 
Per above, wear a summer weight, long sleeve jersey.

Use 30-50 SPF sunblock  anyplace that is exposed to the sun, like the back of your neck, face, legs. If you are particularly sensitive, wear sunscreen under your clothing as well.

Be hydrated well before your ride, drink water or an electrolyte drink during your ride, and keep hydrated after your ride to help your body recover from not only your effort, but also the sun exposure. 
At Panache, we've been offering a summer weight, long sleeve jersey based on our Pro Air Jersey chassis for a few years. We have seen its popularity grow and grow. It is now our second most popular jersey. We use a tight knit mesh on the arms to block a good portion of the sunlight while also offering a good degree of breathability. The key is that the material allows the wind (from riding) to reach the skin and thus, cool you a bit. 
Words from some happy reviews of the Panache Long Sleeve Pro Air Jersey:
Travis B: "This is the perfect level of sun protection for arm for daily rides without compromise. I don't want to put on sunscreen every day and this solves that problem. It's perfect."
Kimberly N: "Leave the greasy sunscreen behind and enjoy this amazing piece all summer long. Super happy with the quality, cut, and design of this jersey. Don't be scared by long sleeves in the summer."
Thanks for reading - let us know your thoughts on hot weather riding. And… if you've read this far, use longsleeveproair at check out for 20% off any and all of our instock Long Sleeve Pro Air Jerseys.
*Disclaimer: Long sleeve jerseys and/or sunscreens are not a full proof way to avoid sun exposure. To do so, please consult with a doctor or medical professional. 
15 Responses