Panache Day in the Dirt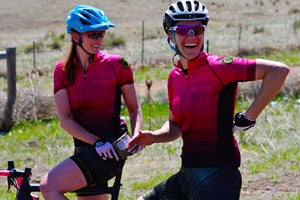 PANACHE Day in the Dirt – Women-Only Ride 1.0

"The purpose of life is to live it, to taste experience to the utmost, to reach out eagerly and without fear for newer and richer experience." Eleanor Roosevelt

It was a perfect, sunny and 65 degree day in Boulder, Colorado for the first-ever Panache Women's-Only Day in the Dirt, a social ride that I did with an amazing group of women. Panache's Day in the Dirt is a unique ride that Panache puts on a few times per year. It's like a gravel ride, but more. It's a style of riding that Panache has cultivated that takes riders off the beaten path incorporating not only gravel but also cinder paths, old abandoned mining roads and small gauge rail beds, and even singletrack. Panache brings fun and challenging to the ride, but also a bit of surprise and novelty. You're likely to encounter creek crossings, plank bridges that cross farm ditches, as well as cyclocross-esque mud and sand. In short, it's a fun, adventure ride.


For this first Women-only version of the Ride, there was a first timer 32 mile option and the longer 45 mile option that I did. Whichever ride you chose, you were always close enough to home (no matter where you are in the Front Range of Colorado, you only have to look to the Rocky Mountains for orientation) to know where you were, but the route took you places you never knew existed. Panache's ability to link together all of these pieces of dirt to create a memorable experience is, in one word, remarkable.

Panache has put on several Day in the Dirt rides, but for this event they took their passion for dirt one step further and created a day specifically for women. The Women's-Only Day in the Dirt 1.0. was an opportunity for women of all ages and experience levels to come together in a supporting environment. To make the day even more special, Panache partnered with an organization near and dear to my own heart, the Colorado High School Cycling League. A suggested donation of $20 was added with a goal to raise enough money to cover one high school girl's racing and league fees for the season.


With the course planned and the charity selected, Panache reached out to local partners, Skratch Labs and Boulder Cycle Sport, who were eager to throw support at the day. Of course, in Colorado you can be assured that even the best plans can be ruined by spring weather. We were hopeful that it would change, but the weather forecast was calling for constant rain and snow all day. After some quick planning by Panache and quite a few back and forth emails to all of the ride leaders the date was quickly changed from Saturday to Sunday. The forecast, a sunny 65 degrees and minimal wind; in other words, perfect.

On Sunday morning, we arrived at Panache HQ to the smell of coffee - provided by Josh at The Coffee Ride - fresh fruit, and yummy bagels. The racks quickly filled with cross, road, and mountain bikes and women of all abilities and ages milled around, excited for the day's adventure. Over 50 women turned up to ride and support each other and our local community. We even had a large representation of young women from the local high school mountain bike teams, lending their support to their coaches and team for the day. In order to ensure that every rider had a wonderful experience, Panache called on some local superstar women to lead the charge. Brittany Hines, marketing director for Boulder Cycle Sport lead the first group out on the 32 mile course with Colorado High School League volunteer coordinator, Cheri Merrihew. Local cross legend, Kristin Webber led the first 45 mile group assisted by former CU cyclist and road pro, Tara Dunn. The last group was led by me, Becky Batizy, Boulder High and Melton /Cari Higgins mountain bike coach, Panache supermodel and uber athlete, Julia Uhlendorf, and Cari Higgins, retired road and track pro and fellow coach for Cari Higgins racing.


The weather was stunning and the dirt was perfect from the previous night's moisture. The air filled with the sound of tires on dirt and the scent of spring blossoms. The ride started out on Boulder's bike path and headed out to two pieces of single track off the beaten path, but right in town. We proceeded through the town of Marshall. A big loop took us as far east as 287 and back west towards town. We weaved all around the gravel paths waving at strangers and sending out well wishes. As we rolled along the dirt, everyone we encountered was blown away to encounter all of our smiling faces on bikes. We hopped on the Davidson Mesa trail and convinced a wonderful stranger to take a picture of all us. Our conversations turned to food as we remembered the beers and Salvaggio's that was waiting for us back at Panache. We quickly headed back and were warmly greeted with cold beer and sandwiches. I have been on plenty of dirt rides in Boulder, but there is something magical that happens when you get a group of women out on dirt. I could not have asked for a more amazing day and the fact that we ensured a young lady will be able to race without having to worry about race fees, was the perfect ending.
::Becky Batizy
39 Responses