The Director's Perspective - North Star Grand Prix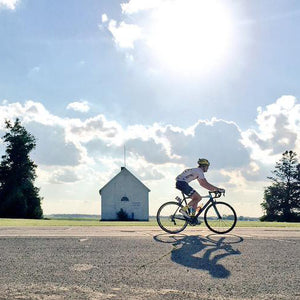 by Nick Traggis
One of my favorite races on the USAC Pro Road Tour is the Northstar Grandprix (formerly Nature Valley Grandprix).

 

I have participated for many years as both a rider and team director and have gotten to know the promoting team quite well. 
They have some great creative concepts at this race: Smaller 6 man rosters and no TT bikes allow the smaller teams to compete on a more level playing field with the big guys and create a more open and interesting race.  Their downtown courses and finishing circuits bring out some of the best crowds in U.S. racing.
So when they approached me this spring to build a composite pro team to compete in the race this year I obviously jumped at the chance!  The idea was somewhat unique in that the title sponsor of the race (North Memorial Health Care) wanted to have both a Men's and Women's team competing in the race as part of their sponsorship of the event.  Frankly, I think this is a great idea and everyone I have discussed it with agrees. 
Now the big challenge in building a composite team is that most of the best riders are already contracted to ride for their trade teams all season and are not allowed to compete in a race their regular team is also entered in.   With my regular squad, Gateway Harley Davidson –Trek U25, entering its own team; I would lose many of my top choices off the list right away!
(Younger) brothers from another mother – it was great to see the Gateway guys ride so well all week.  I look forward to reuniting with them at Cascade Classic!
Around this time I came across a post on Facebook from former pro and Olympian Mike Friedman who was looking to get back into racing.  I've known Mike for some time from local racing in CO and knew he would be a great anchor to the team.  Even if he didn't have his old legs underneath him, he is a great ambassador for the sport and as a former winner of the race would bring some great prestige to the squad.   I also heard through the grapevine that Jeremy Powers was looking to do a block of road racing this summer in prep for his cyclo-cross season and convinced him to come on board.  Joining Mike and Jeremy were local CO studs Yannick Eckmann, Michael Burleigh, Andrew Clemence, and Drew Christopher.  Rounding out the team were my wife Faith Clauson (soigneur/chef) and Michael Christopher (mechanic).
Your North Memorial Men's Pro Team hit squad for 2016! Photo: Iain Patterson/blueeyesandahat
Now this is obviously a team with plenty of horsepower, but more importantly it was a group of guys that I had enough history with to know they would be able to gel quickly in a one-off team situation; and even more importantly, be willing and excited to execute on our sponsor obligations during the week.
Mike Friedman and Greg Lemond leading the CEO charity ride before the start of the Minneapolis downtown criterium.  Mike was tireless in volunteering to do these events all week and an amazing ambassador for the sport.
The fact the marketing return on investment rarely matches sporting value has been a big take away from my recent experiences in the sport.  At the professional level, winning bike races is important, but far more important is the message your team has and how it delivers it for your sponsors.  Only a few teams do this consistently well which is evidenced by the small number of pro teams in the U.S. that last more than 2-3 seasons.  The way I like to look at it is that you need to race well enough that people are interested in listening to you, and then put all your energy into what you have to say and how to say it!
Nick, Jeremy, and NSGP Race Director, Brendon Hale.  Jeremy is one of the best examples out there of building a brand that is even bigger than his results on the bike. 
This was a big theme in our team during the week of the race, with several sponsor events throughout the week outside of the actual racing. We spent time with employees, joined their group ride, participated in expo events, and were active in helping document the race with the help of Mike's videographer friend Iain.  As a matter of fact, our racing performance was pretty average for the week, but no one seemed to mind.   On the final day of racing I was talking to one of the marketing executives from North Memorial in their VIP tent.  She was telling me how pleased they were with how the race has gone all week and the work our team had been doing for them.  When I pointed out that one of our riders (Yannick) was in the break and riding really well on the day, she smiled and admitted to not really paying much attention to the actual racing itself.  She had it exactly right all along… 
We joined our sister team for a nice ride through the awesome bike path system in Minneapolis with employees and friends of North Memorial.  This may be the last photographic record of Drew's amazing hair before he decided to cut it all off. (Photo: Drew Christopher)
"Mike captured some great POV footage of the big crash at Cannon Falls during the race – he also demonstrated some great bike handling skills while doing so!"  
Big THANK YOU to Jan and Charlie Lloyd for opening their home up to us for the week.  Host housing and the great friends we have made around the country remains one of my favorite things about the sport.
A category 1 cyclist, USAC licensed coach, and UCI licensed Sports Director, Nick has been racing at the elite level on the road and track for over 15 years. He is most often found training in the foothills of Boulder, CO or teaching people how to ride the banking at the local velodrome.  Nick enjoys working with professional riders/teams as well as riders looking to balance school and/or work commitments with their cycling goals- as he has had to do the same for his entire career!

In 2014, he led the Horizon Organic/Einstein Bros cycling team to a National Championship and to be the best ranked amateur team in the U.S.

He has directed for professional teams SmartStop Pro Cycling and Champion Systems at events such at the Tour of Utah, U.S. Pro Challenge, and UCI World Championships.

Nick has also enjoyed a successful career as an entrepreneur and technologist. He currently works with high-tech manufacturing companies as a consultant with Boulder Technology Advisors.

When he isn't at his "day job", working with his athletes, or riding his bike, Nick can be found hiking, fishing, or snow-shoeing the local mountains with his wife, Faith.

You can learn more about Nick and his thoughts on professional cycling here: www.bouldersportsmanagement.com
16 Responses
Leave a comment