Tire Pressure, Widths, and Tread Patterns: The New Lingo Sweeping the Globe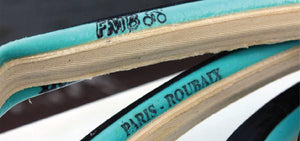 There is new vocabulary making it into the cycling lexicon these days surrounding tire pressure, tire width, tread patterns and the like. Over the past few years, the popularity of Cyclocross, the emergence of VTR (Gravel riding), and the obsession with marginal gains within the pro roadie ranks have catapulted new words and tech talk into our cycling vocabulary.
It used to be that you pumped up your tires on race day to the standard 120psi. Done. Unless it's raining: 110. Today, there's a whole lot more to it. "You running 5.8 bar? No, 6." "You like those 32s? Yeah, but a bit harsher than my 38s." "Riding the Rhino's this weekend? Depends on the weather, might go with the LAS." 
It wasn't too long ago when things were more simple and your decision making was more a function of brand preference than it was about the width or tread. The chatter was more linear as well with the major innovation, clinchers in race, being the only drama. So to have this new line of dialogue - pressure, width, tread - is refreshing. And... it adds to the number of bike-life analogies us cyclists can make. "Oh man, I'm feeling so 25psi, nothing jarring me." 
Why the new found vocabulary and fascination with psi (bar in other parts), widths, and treads? The source seems to be a combination of the growth in cyclocross, both viewership and participation; and the emergence of VTR (Variable Terrain Riding - see Journal Post for more info on this type riding), aka Gravel. Cyclocross is a discipline that has shown the margin of error between traction and no traction to be very small, a half psi being noticeable. I myself did my first CX race with 60psi, an amount that when disclosed summoned immense laughter on the part of the Cross aficionados. Today, I'm still not dialed to the half psi, but I am now experimenting between 25 and 27psi (not yet ready to go into the low 20s!). But it is true, you can feel the difference between a couple / few psi when riding 32mm tubulars over grass, mud, roots, and sand. 
VTR requires a little more pressure. Maybe. I run about 50-60psi, but the more Cross oriented riders tend to go only a few psi above their Cross psi. Being of Roadie descent, I still lean high, not liking the bob and float of low psi while on pavement. But that's me - and this is the fun part - this new lingo and the theories involved are not yet laid in stone.
Even in road racing, this new lingo is crescendoing. It used to be a road racing tire width was 21mm. Done. 19mm for TT. Over the last several years road racing tires have gotten wider with 25 being the new norm. This being a result of pro teams getting micro and looking for marginal gains and realizing that wider tires with lower psi (100 versus the normal 120 depending on various factors like road surface, weather, and the number of twist and turns) go over the rough (the norm in a lot of races) pavement faster. Add a few cobbles into the equation and the volume on the lingo goes up a notch: the tire widths can go to 28, even 30, as was the case in last week's Paris Roubaix (some old school riders stuck with 25; Sagan was on 28s). Tire pressures were specific to each rider, a factor of weight and personal preference for ride feel, something that was dialed in during the reconnaissance rides the week prior to race day.
It's also interesting to note that this debate is not just for Cross, Road, or VTR. Tire details are being talked about in MTB, especially as 27.5+ and 29+ tires are coming into vogue. The plus refers to the height of the tire. More rubber, more "shock" absorption, more traction... Questions are abound: What does this mean for psi? Should I run more because I have more rubber under rim? Oh, but if you have the new wider rim profiles, then the equation changes? It's still all new and that's the fun part. 
Don't expect this chatter to go away. Cycling technology is in the midst of an explosion. The technology is allowing people to ride road bikes on roads and paths once left for mountain bikes. Cyclocross technology, tires and brakes in tandem, has allowed more cross over type riding. Mountain bike tires are letting people ride (and huck) over terrain once reserved for their motorized cousins (motorcycles). It's all moving and evolving exposing new adventures and new horizons. 
So next time you're at the cafe waiting for the morning ride to start and you hear someone anguishing over a half psi, just nod and add, "maybe start with a quarter psi and feel it out".
::DP
24 Responses